Beginner Weaving Class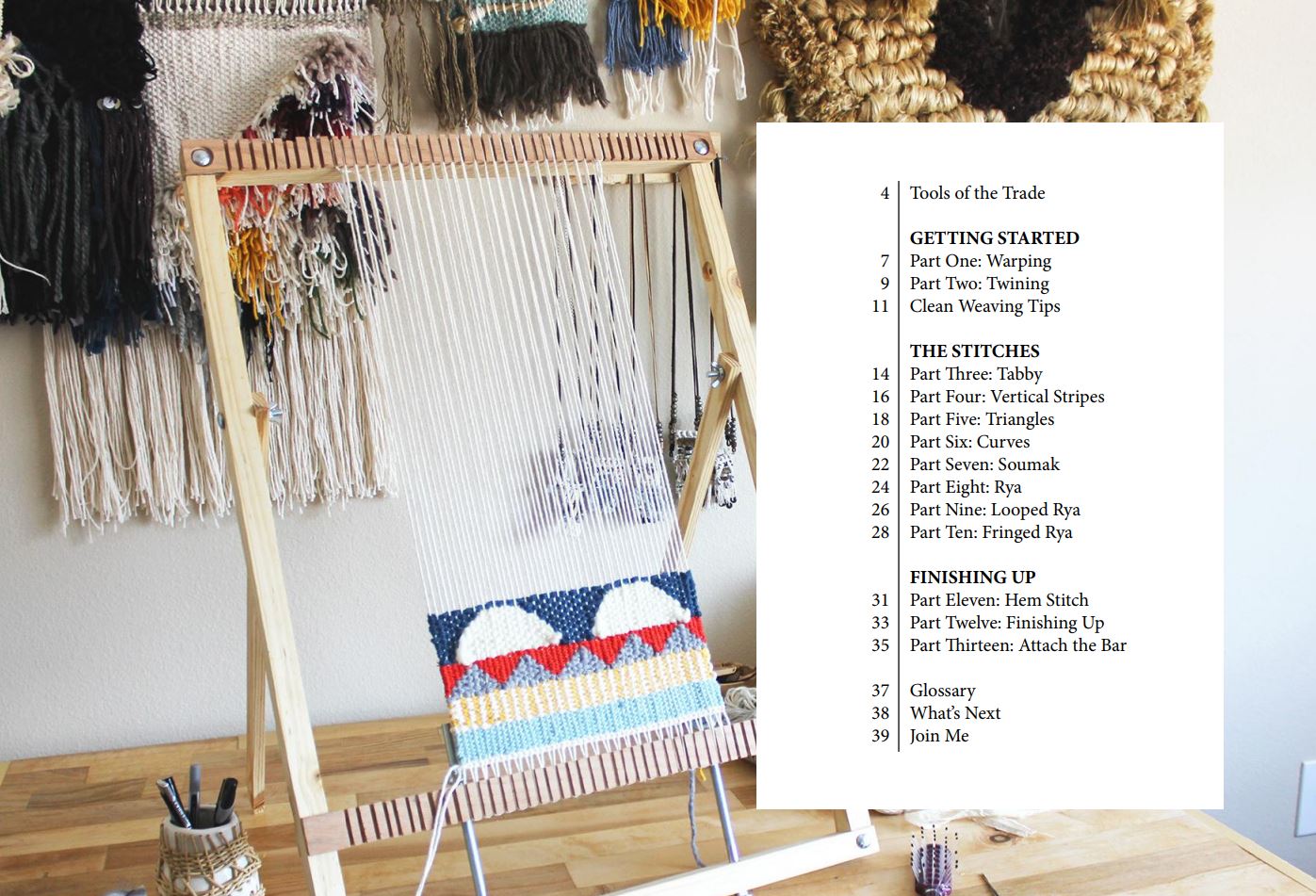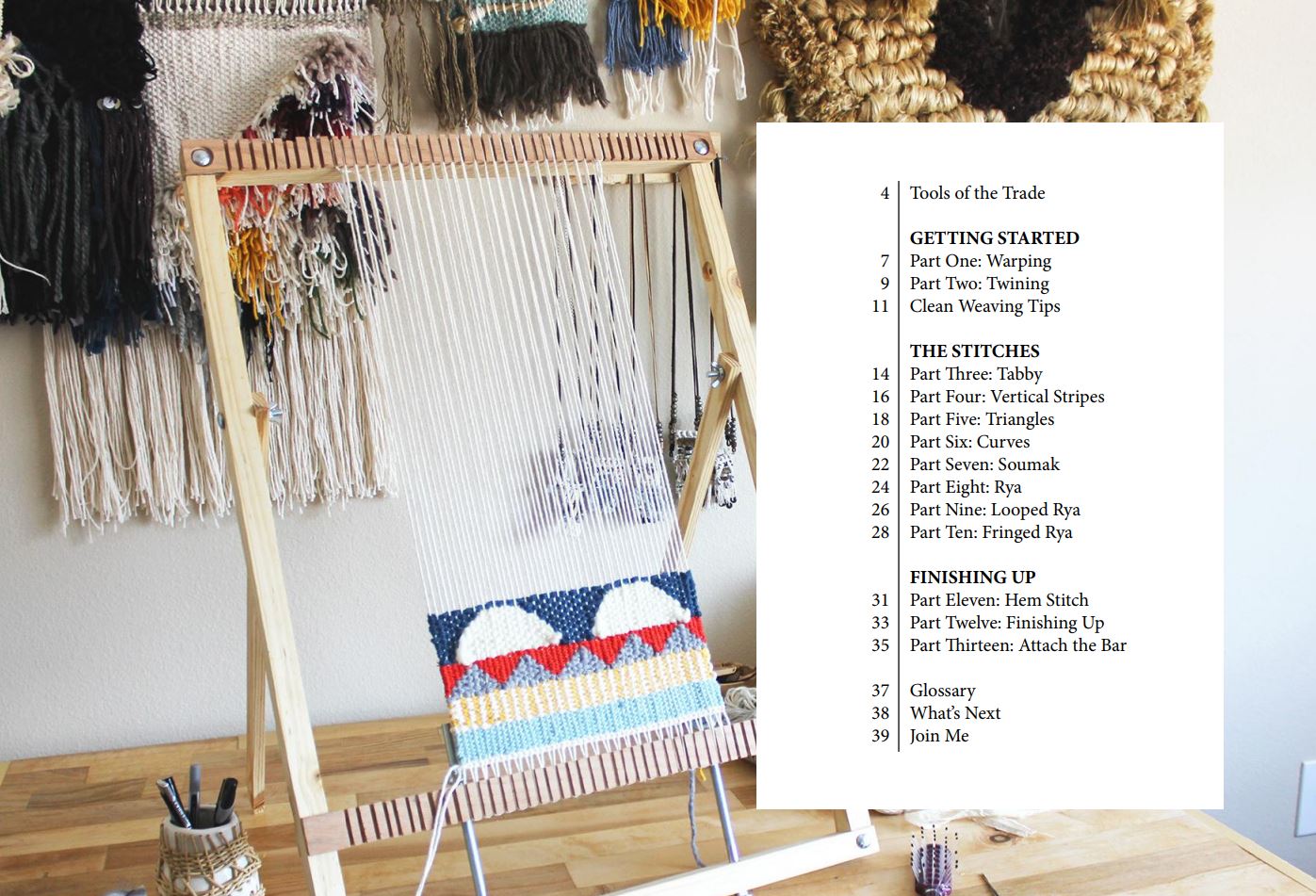 Beginner Weaving Class
This class is designed to give you a solid foundation. Start here to learn the basics as well as some game changing techniques to help launch your weaving game beyond the beginner level.
The best way to learn how to weave is by watching someone do it. That's why I'm so excited about this complete eBook and Video Course! When I started weaving a few years ago I had no one to teach me. I desperately needed a course like this to show me how to do everything at my own pace, and that is exactly why I've worked hard to put this together.
Even if you can't make it to a workshop with a weaving master, or don't have any fellow weavers in your local area, you can still learn all of the skills you need to know. Welcome to Weaving!

Watch the Intro video HERE: https://vimeo.com/188188764

---------------------------------

This purchase includes a 40 page introduction eBook as well 13 video lessons where I break down the basic stitches up close. You don't have to be a beginner to learn something new!
Weave right along with me and by the end of this course you will have a 'weaving sampler' to share and hang in your home. It's the prettiest homework you'll ever get!

Want to learn even more? Once you have the basics down join me for the sequel, Welcome to Weaving: More to Learn HERE: https://www.etsy.com/listing/505797949/ebook-and-video-course-welcome-to

--------------------------------
In this course I answer the following questions, among others.

FAQ

Why should I weave upside down?
How do I make shapes, like curves?
How do I attach the tapestry to a bar?
What is the best type of yarn to use for my warp... what about my weft?
Where can I purchase warp string and needles?
How do I keep the sides of my weave straight instead of curving in?
How do I finish a weave so that it doesn't fall apart after cutting it off the loom?
What is the secret method to keeping a clean back for minimal finishing work?
What are the basic stitches I need to know?
How do I set up my loom with a high density warp?
How do I keep my warp strings evenly spaced?

--------------------------------
REVIEWS:

"This little gem of a course is changing my creative life! The videos are short and easy to follow, the ebook is beautifully and clearly designed, and the sections are well thought out for a beginner - not overwhelming but enough to keep things interesting for a while. I've been weaving every day since I got it, and just ordered a bigger loom! Very excited about where this is taking me. Thank you so much!"

"Absolutely loving this course. It's complete, great quality videos and ebook. I thought I could find everything about weaving on YouTube but Lindsey has taught me a lot tricks that I didn't know anything of! Definitely recommend."

"This course is so valuable. I learned a lot quickly, and felt much more confident in my weaving practice right away. I find myself coming back to it over and over for pointers and technique tips ❤"

"i love this online course! super clear and informative. i suggest it to all my students!"

"I'm following @hellohydrangea weaving course and it has taught me so much already! If you're tired of looking for videos to teach you basic weaving techniques, check Lindsey's course, it's cheaper than a workshop and better, since you can rewind and watch it again when you're struggling. I think I've watched each videos 10 times and I'm not tired of it!"

"I've been "playing around" with weaving, but really had no idea what I was doing:). This was exactly what I needed. She explains and shows different techniques easily, and I have it for reference."

"Love love love this eBook and video course! I am just beginning to weave and could not have asked for a better teacher! I cannot wait for the second version to come out! Thank you so much!"